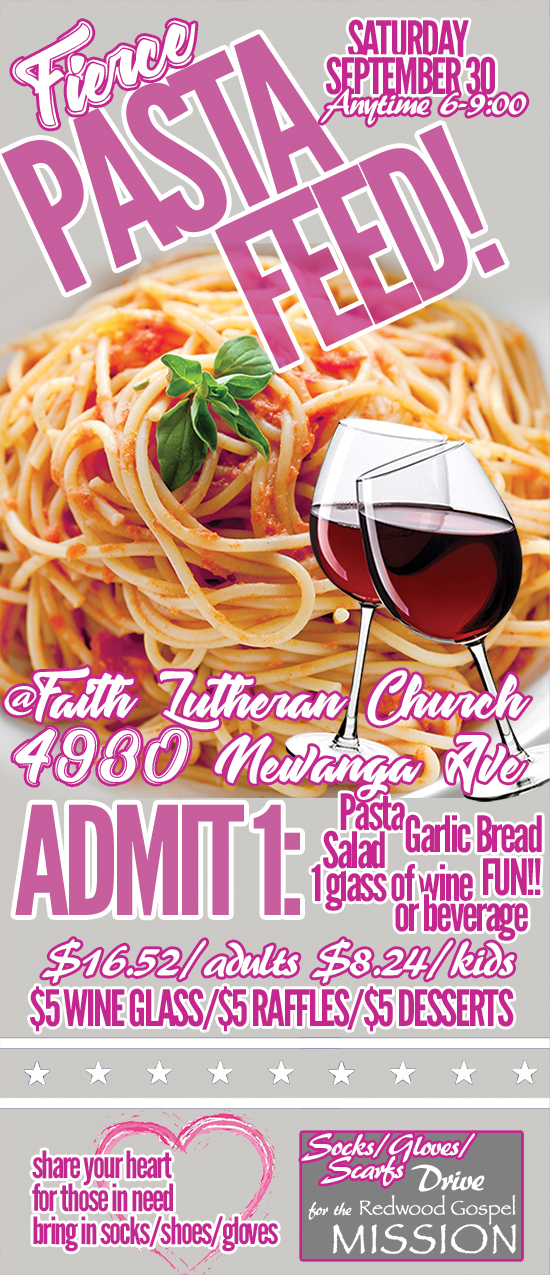 1st-Annual Fierce Pasta Feed
Please join us in our 1st-Annual Fierce Pasta Feed! 
Date: Saturday, September 30, 2017
Time: 6:00 PM – 9:00 PM
Location: Faith Lutheran Church 4930 Newanga Ave, Santa Rosa, CA 95405
ALL YOU CAN EAT
Pasta Marinara and Pesto, Green Salad, Garlic Bread
It will be a fun evening for the whole family!
DINNER ~ RAFFLE PRIZES ~ BAKE SALE
RSVP to Bay via text @ 707-321-2025 if you desire Gluten Free.
Also, Please bring in any socks, gloves and scarfs you would like to donate to the homeless, men, women and children in need. This Drive is for the Redwood Gospel Mission.
If you have any questions, please get in touch with Bay or Kimberly.
Come out and celebrate with your Fierce Family!
Tickets: http://fiercepastafeed.bpt.me/